ROLE-BASED ACCESS NOTE: Some of the features and functionality described in this article require the assignment of the Admin or the Manager user role to your user account. Without one of these roles assigned, some or all of the functionality may not be available to you.
Aimably is a collaborative program that benefits your company the best when used by multiple employees across departments and teams. As a result, Aimably does not bill per user license. You are encouraged to invite as many users as makes sense for your business.
To invite a new user to your company's Aimably account, start by opening the Configure navigation menu group and select Manage Users from the options:
Next, click the blue 'Add a user' button: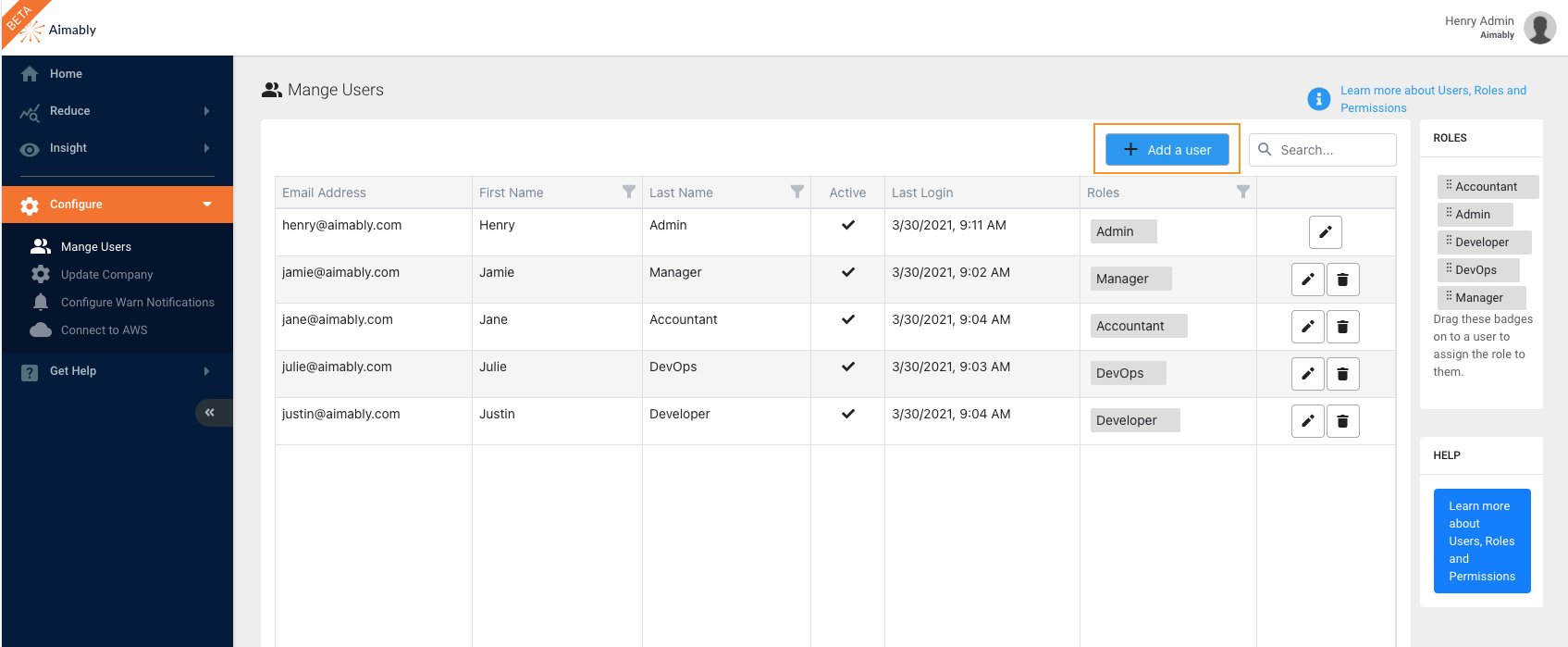 On this screen, you will create both the basic user profile information for your new user and the permissions that your user will need to receive, based on the roles you assign. We will outline each below:
Email Address: Each Aimably user across all our clients must have a unique email address. As a result, it's best practice to have a single Aimably account per company and require the use of your employees' business email addresses when creating accounts.
Roles: You many select one or more user roles for each user, which controls access to features and functions in Aimably as well as which notifications the user will receive via Aimably Warn. For more information, read more about user roles in Aimably.
Active: If you would like to keep a user profile in Aimably but not grant the user access to your company account, turn this toggle off. By default, we keep it on.
Send Invite Email on Save: If you would like your new user to have access to Aimably once you create their profile, leave this toggle turned on. If you would rather create the user now and send the invite later, you can switch the toggle off.
Now that the user profile is created, there are additional functions you can use to manage the user. From the User Management page, you make click the envelope icon to re-send a user invitation to Aimably:

To change any of the user configurations, click the pencil icon to re-open the user management window used to create the user:
Clicking on the trash can to fully delete the user from Aimably. This is different from archiving a user.